HoloHolo Hawai`i Ocean Sports News
presents



2000 Moloka`i Hoe (almost) Live OnLine Coverage
October 8, 2000
Stay tuned for more info... we'll be updating as it happens
Last Updated: Wed 11Oct00 0919 HST
Lanikai Canoe Club sets new record!!
GPS time had race start at 0728 or so
Provisional Results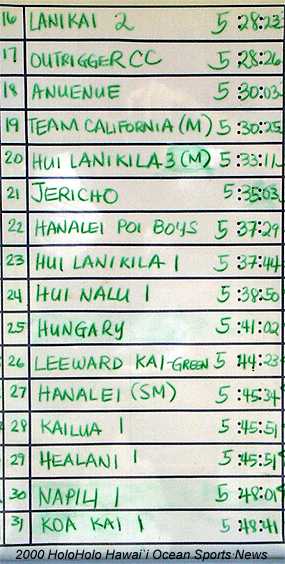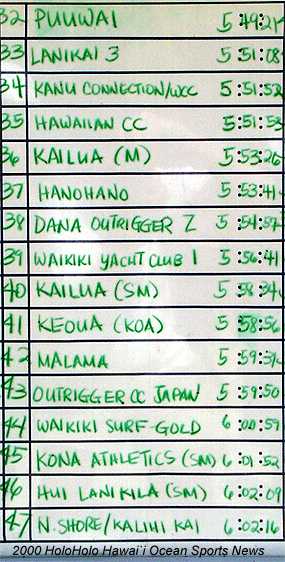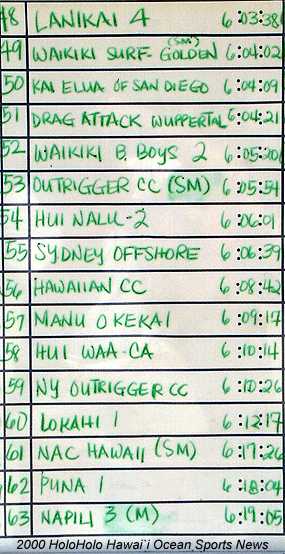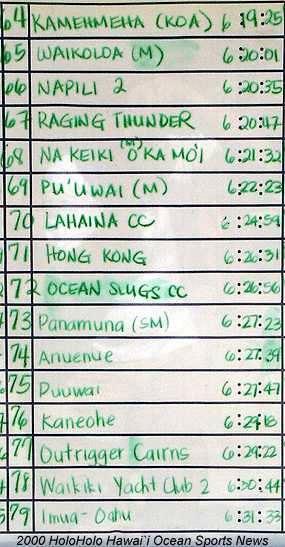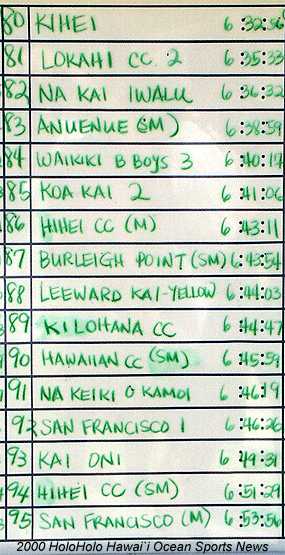 SEE: Latest NOAA weather reports courtesy of UH SOEST
check out the pre-race news... (Race Day News)

'Everyday guys' give up a lot for canoeing
story by Dayton Morinaga at The Advertiser
Some sacrifice more than others....
Somewhere as proof in New Zealand, there's a dead cow,
a few out-of-shape businessmen and some upset Japanese bosses.

and...
Sometimes the older guys show younger guys the way..
By Jason Genegabus, at The Star Bulletin

and check out the 99 Race Review from Walter Guild

Official OHCRA Site for entry forms, race rules

News & Results from past races
'99 Race -|- '98 Race -|- '97 Race -|- '96 Race -|- Prev Wins/Times

Also see: Na Wahine O Ke Kai Race
Womens World Championship Outrigger Canoe Race
News, Results and ACTION PIX
---
This site will be linking to all available online resources for the 2 Moloka`i Races,
so if you have items of interest, please Email...
Hele on to Canoe Club News
Last Modified: 20001011.0919 HST Wednesday
Copyright © 1995-2000 and produced online by
HoloHolo Internet Publishing, all rights reserved.