The Winners of Moloka`i Hoe 2001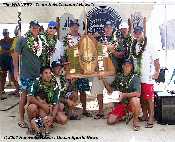 Team New Zealand / Hawai`i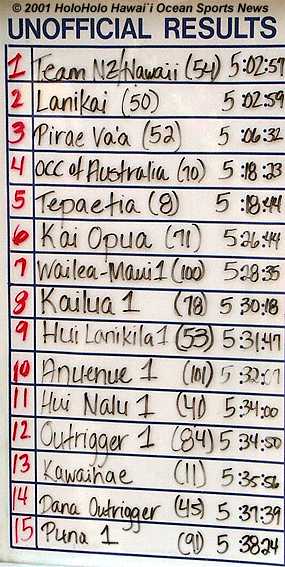 The Koa Division Winners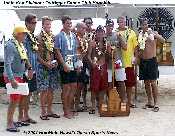 Outrigger Canoe Club Honolulu
The 55+ Division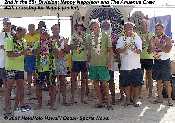 Anuenue O`ahu
Nappy Napoleon & Crew were 2nd in the 55+ group...
Kailua Golden Masters was 1st..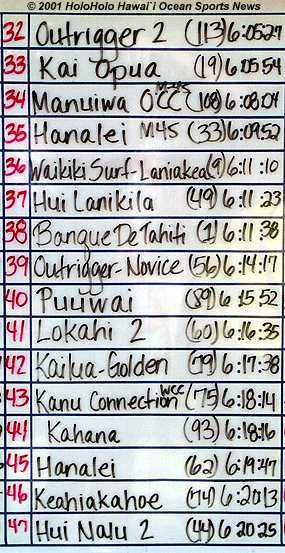 The Best Tee-Shirt Division ;)


Kailua CC O`ahu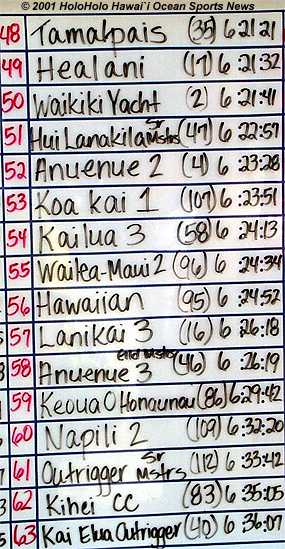 1st in Best Sports' / Runner Up Division


Lanikai CC O`ahu
Best Group Shot Division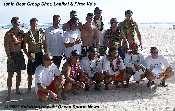 Lanikai & Pirae Va`a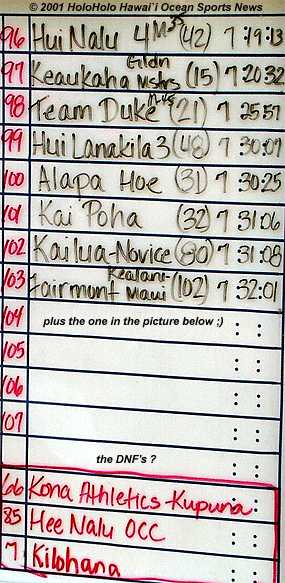 and Team Tail-End... ;)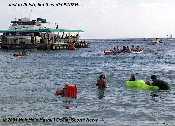 but hey!... they finished.
Race News / Official Results (7Oct01)
The Pre-Race News so far...
Bob Krause's Our Honolulu Column at The Advertiser..
Moloka`i Hoe marks its 50th (7Oct01)
and the list of entries reads like the Olympics:
Australia, Canada, Hong Kong, Japan, Tahiti, New Zealand and more!
mainland US crews from California, Connecticut, Illinois, Maryland
from the islands: O`ahu 38, Hawai`i 13, Maui 11, Kaua'i 6...
103 entries total, over 1 MILLION dollars flow into local economy.
Moloka`i History by Mike Tongg & John Linn at Pacific Paddler
along with The First Annual Canoe Festival
from The Star Bulletin's Brandon Lee (5Oct01)
Lanikai returns Pirae's favor for Moloka`i Hoe
loans em The Mirage, latest canoe from Outrigger Connection,
sister of the one Lanikai paddled to last year's win and new record
Moloka`i-O`ahu race will be 44th for paddler Napoleon (4Oct01)
by Dayton Morinaga at The Advertiser
Emotional ride ahead for a Moloka`i Hoe team (5Oct01)
after two 2nd place finishes, Team New Zealand/Hawaii is certainly capable of winning
this year: a dedication to Chrissy Herbert

and... from Kanu Culture's Steve West, writing at Y2Kanu:
Team Australia returns... Who's the Favorite?: TOUGH Call
especially in the New Masters 55+ Division
some of the Canoe Clubs involved
SEE: Official OHCRA Site for entry forms, race rules
News & Results from past races
'00 Race -|- '99 Race -|- '98 Race -|- '97 Race -|- '96 Race -|- Prev Wins/Times
Also see: Na Wahine O Ke Kai Race
Womens World Championship Outrigger Canoe Race
---
This site will be linking to all available online resources for the 2 Moloka`i Races,
so if you have items of interest, please Email...