HoloHolo Hawai`i Ocean Sports News
presents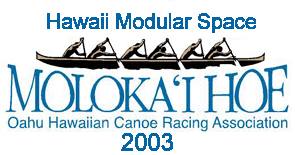 2003 Moloka`i Hoe (almost) Live OnLine Coverage
October 12th, 2003
Stay tuned for more info... we'll be updating as it happens
Last Updated: 12Oct02 ~ 1849 HST Sunday

Hawai`i Weather -|- Waves -|- Wave Forecast
and it's....
Team NZ/Hawai`i
first off the line,
Goes Line to Line !!

some pre-race news items...
from The Advertiser:
Team New Zealand/Hawai`i bonded by friendship
Tahiti's Rai back to defend title
some of the Canoe Clubs involved
SEE: Official OHCRA Site for entry forms, race rules
News & Results from past races
'02 Race -|- '01 Race -|- '00 Race -|- '99 Race -|- '98 Race -|- '97 Race -|- '96 Race -|- Prev Wins/Times
Also see: Na Wahine O Ke Kai Race
Womens World Championship Outrigger Canoe Race
---
This site will be linking to all available online resources for the 2 Moloka`i Races,
so if you have items of interest, please Email...
Hele on to Canoe Club News
Last Modified: 20031012.1159 HST
Copyright © 1995-2003 and produced online by
HoloHolo Internet Publishing, all rights reserved.