Honolulu, Hawai`i (September 5, 1997) -- When you really stop to think about it, paddling a six-person canoe across 41 miles of open ocean is an extraordinary feat, accomplished by women who consider themselves "ordinary."

Offshore CC completing a change-out during the '96 race

But that's what the Bankoh Na Wahine O Ke Kai is all about -- ordinary people doing extraordinary things.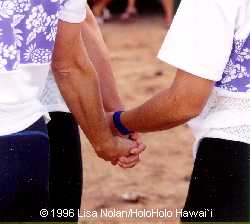 What makes these ordinary competitors extraordinary isn't just that they can go the distance on race day. It's the dedication, energy and perseverance it takes to get there -- the long-term commitment to endless dawn or late afternoon training sessions laced with running and weight lifting, not to mention tough coaches, aching muscles, heat, blisters, big waves, strong currents, fatigue and often sheer exhaustion.
Competition for one of the nine-to-12 positions on each individual Moloka`i crew is fierce. It begins in June during the short-distance regatta season and accelerates in early August after the State Championships at Hilo , when the long-distance paddling season begins with the Duke Kahanamoku Race . Then the races grow progressively longer, culminating with the Moloka`i championship.
While the paddlers are training to race, a small team of officials is busy working on race logistics involving a championship between two islands. That means working with the U.S. Coast Guard on safety requirements, obtaining event permits and event insurance, assembling and mailing race information, preparing and shipping canoes on the barge to Moloka`i, ordering t-shirts, planning the carbo dinner, securing medical personnel, hiring power boats to take officials across the channel and organizing team registration.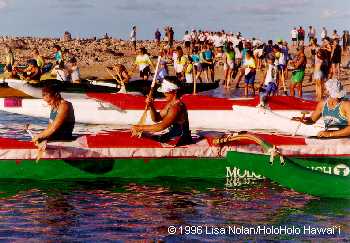 Then there's the task of transporting nearly 1,000 people 15 miles from Molokai's west end hotels to remote Hale O Lono harbor
where the canoes are rigged and launched for the start.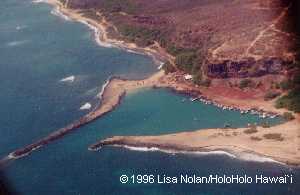 There's always a glitch or two. This year no sound equipment or restroom facilities -- required in Hawai`i for any large sports gathering -- were available at Hale O Lono and for a while officials wondered if they would be able to start the race there.
So they called Maui County Mayor Linda Lingle's office and explained their plight. Then, what was an extraordinary problem was handled in an ordinary way.
"When she found out they were stuck, she was concerned," said spokesman George Kaya. "This is a big race and she really wanted to help." So her office is providing portable luas and a flatbed truck with portable sound equipment. The County will also do the same thing for the Bankoh Moloka`i Hoe men's race on October 12.


"She really saved the day," said race director Hannie Anderson. "I don't know what we would have done without her help." According to Anderson there are currently approximately 45 entries with more expected. Last year 52 crews entered.

In 1991 Bank of Hawai`i commissioned two canoes that were given to the Oahu Hawaiian Canoe Racing Association (OHCRA) to be used by visiting teams. With newer, faster models now available the two canoes commissioned by Bank of Hawai`i have been sold to Kailua and Hui Nalu Canoe Clubs and a the profits from the sale will be used to establish a grant program for young paddlers.
In 1995 OffShore Canoe Club, ten time winners of the competition crossed the channel in a record five hours, 24 minutes, 32 seconds. They are racing again this year.
The September 28, 19th annual Moloka`i to O`ahu world championship sponsored by Bank of Hawai`i is one of a six-month long series of events focusing on the company's 1987 to 1997 centennial.
"We intend to use our centennial as an occasion to give back to the community that has given us so much over our first 100 years," said Lawrence M. Johnson Chairman and CEO of Bankoh and Pacific Century Financial Corporation.
KHON Fox 2 television will broadcast the finish live from
Duke Kahanamoku Beach at the Hilton Hawaiian Village at 1 pm on race day. On Sunday, October 12 a one-hour special will be broadcast from 7-8 pm, followed by a rebroadcast on Friday, October 17 from 9-10 pm.
For race information please contact:
Hannie Anderson
423 Aulima Loop
Kailua, HI 96734
Phone: 808-262-7567 or Fax: 808-259-9447.
Internet address: - http://holoholo.org/wahine/
PRESS BOATS: Are available for the crossing or at the finish. Please reserve press boat space by September 19, 1997. Privately hired boats that have not received permission to be on the race course will not be allowed within the race perimeters.
1999 Race Results
1998 Race Info -|- 1997 Race Info -|- 1996 Race Info