HoloHolo Hawai`i Ocean Sports News
Presents
The 1998 Moloka`i Hoe
Finish Line Photo Gallery
Page viewing guidelines
---
Last Updated Sunday 10/11/98 0900 HST
Aloha & Welcome to
The '98 Moloka`i Hoe Race Finish Line!
RACE START 0726:12 HST
Results / Photos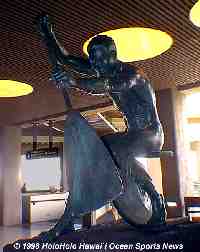 Toots Minvielle memorial at Honolulu Airport
---
This site will be linking to all available online resources for the 2 Moloka`i Races,
so if you have items of interest, please Email...
News & Results from past races
'97 Race -|- '96 Race -|- Prev Wins/Times
Also see: Official '98 Pre-race info
Stay tuned.... LOT's More happening.... Soon.
See: Na Wahine O ke Kai Race
Womens World Championship Outrigger Canoe Race
Official Results and ACTION PIX
SEE: Latest NOAA weather reports courtesy of UH SOEST
Hele On To Hawai`i Canoe Club News
Last Modified: 19981011.0759 HST Sunday
Copyright © 1995-98 HoloHolo Internet Publishing, all rights reserved.